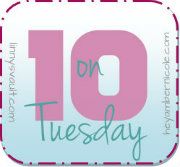 1.) Thank you to all of the wonderful comments and emails I got from yesterday's post. I guess I am not the only one who feels that way!
2.) Found these could flats today at Kohls today for $7...winning

3.) Excited that Vegas is only a few weeks away. This girl needs to leave the state ASAP.
4.) I get to babysit these 2 cute munchkins Wednesday and Thursday. Oh I can't wait.
5.) Found yet another swap to participate in. This one looks super fun and right up my ally! Check it out here

6.) I am loving The Following. Seriously this show is the bomb dot com and you should watch it. Every week is suspenseful.
7.) Started tanning last week for Vegas so I don't look like a ghost. I burned my ass and hips this weekend though. Ouch. Just get tan already so I can stop doing it.
8.) My dog Gracie finds it funny when I take her out to go potty to NOT go. It's annoying. I wish she would just hurry up and go. Dog is driving me nuts!
9.) I asked Brent to cook us dinner tonight.
We are having Domino's pizza
10.) My husband is bringing home this tonight. Since I'm a nerd and love history I can't wait to watch it. Yes people actually attempted to STEAL President Lincoln's body!