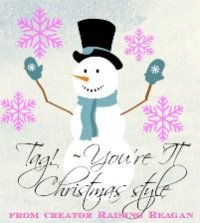 The wonderful Kim, over at Latte and a Prayer tagged me in for a awesome Christmas post!
Here are the questions Kim gave me to answer:
1.) What's your weirdest Christmas tradition that you do each year?
Christmas Eve night my Mom will yell up the stairs to all of us kids (even though we are married and some of us have kids ourselves) and she will say that the weatherman spotted Santa on the radar. lol.
2.) Have you ever spent a Christmas away from "home"? What did you/would you do instead?
I have spent a Christmas away from "home" at the in-laws. They do a "white elephant" type of exchange. Every person brings one gift and sets it in the middle of the room. You then go around in a circle and pick one gift from the center. You can open it up, if you don't like it you have to hang on to it. If someone else opens a gift and you like their gift you can take it. But you can only take a gift from someone else once. It's actually kind of fun. Last year I got a Hot Dog/Hot Dog Bun Warmer and Brent got a neck pillow for plane rides!
3.) Real Tree or Fake?
Fake for us. It's a really nice one though. It's 7.5 feet tall! I don't do real because well one my dogs would probably drink the water out of the bottom and 2 I don't want pine needles in my carpet.
4.) Favorite Christmas Movie?
That would have to be National Lampoons Christmas Vacation and the Family Stone.
5.) What does "Christmas Dinner" mean for you and your family? Are there certain things that are always on the table? What's your favorite part?
Christmas dinner is usually something different each year. It could be ham or turkey, etc. Usually all the fixings (mashed potatoes, some type of sald, rolls, veggie tray, etc) My favorite part is just us sitting around the table together as a family!
Have fun! Answer the questions and tag five more awesome bloggers. After you've done your post, come back here and leave me a comment with the link to it because I don't want to miss it! Instruct your tag-ees to do the same for you. Don't forget to link your post back to Raising Reagen
Here are the Bloggers I am tagging:
Miranda @ Aimless Translation
Jenn @ Dexter Morgan's Mama
Whit @ Black Little Button
Alexandra @ Everything Under The Sun
Shannon @ Page Twenty-Two
Here are your questions:
What's your favorite ornament on your Christmas Tree?
Is there a certain food you have to have around Christmas time that comes out?
Christmas Lights, White or Colored?
Favorite Christmas Movie?
What do you do the day after Christmas Day?