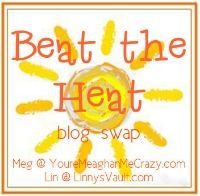 blog swap. Pretty self explanatory.
Due to an odd number of people participating I didn't buy for who bought for me.
Once again Lin had my name again
(we were paired one time before)
and boy, the girl didn't disappoint!
Check out all this awesome loot!
A handmade I'm a Hoot tote bag.
Facial Wipes
Lipton Tea
A mason mug tumbler (my favorite!)
Sour Skittles
Mike and Ikes
Chevron pattern note cards
Freeze popsicles
Sinful Nail Polish (Neon Pink)
Nail File
I love this! I am going to keep it in my car to use for groceries!
Close up of the goods
Thank you again Lin for all of the wonderful gifts!