Linking up for Tuesday's Tunes!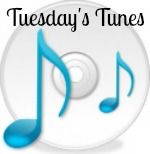 Well I would have to say this version of this song. A Thousand Years Pt. 2
Yes I understand that it has to do with Breaking Dawn/Twilight but the words are nothing short of beautiful!

And because we all are in the Christmas mood and who doesn't love Christmas music? I have to pick this song
Say what you want about the Biebs, but this song ft. Usher is great. This one is on repeat on the ol ipod especially on my 45min drive to work!!