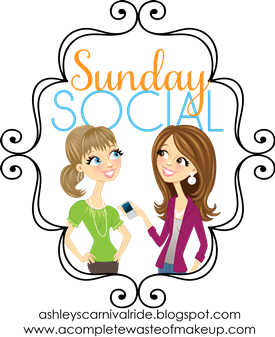 Linking up with Neely for Sunday Social!
What is your favorite store to shop at?
That would have to be Maurices, Forever 21, H&M(when I can get to one), Target and Kohls
If you could afford everything and anything which designer brand would you covet?
Well I guess I'm not a huge 'designer brand' person. I like JCrew clothes, I know they aren't designer but they are a little exspensive for me.
Must have closet staple:
Hands down hoodies. Must Must have. I live in those during the winter time. I would also have to say camis. I wear those under clothes all the time.
Favorite kind of shoes (brand or type)
I'm a flip flop kind of girl. But during the winters in Wisconsin I can't be wearing those! So I like my pumas and I like wearing my Ugg boots!
Best clothing deal you ever got:
Well if you ever go to Kohl's you always get major savings there. Yesterday my husband got a Croft & Barrow dress shirt on clearance for $12! Orginally $65
Style you would love to try:
Skinny jeans. Man I wish I could rock those!!