Welcome to the Tuesday addition of Friendship Week.
Today? Your Favorite Blog Friends. One of my favorite new subjects!
Jen:
Jen is one of my favorite blogger friends. In fact I consider her my best blogger friend!! I don't remember how I stumbled across her blog but I loved it. Her blog title 'Dexter Morgan's Mama' appealed to me as I love the show Dexter! She has a cute puppy named Dexter who is such a character!
Jen lives a state over from me and we plan on getting together really soon. I think Jen and I are best friends and I can see us being better friends once we meet!
Courtney:
Courtney blogs over at Courtney Cakes. I love reading her blogs they always make me laugh!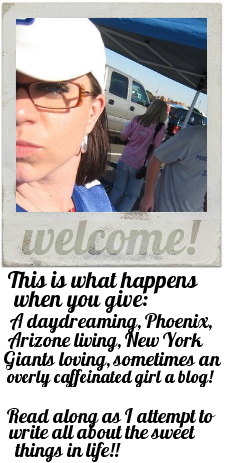 Ashlee
: Blogs over at 'On the front porch looking in'
I love reading Ashlee's blog. We have a lot in common. I wish she lived in Wisconsin because I could see us hanging out! Ashlee recently got married and was a beautiful bride. Stop by and say hi!
Alexandra probably doesn't know that I consider her one of my favorite bloggers but I love getting to know her. I make sure I read her blog everyday.
She is also hosting a really cute swap too!